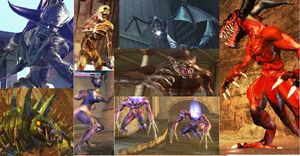 The Fiends (魔神, Majin?, Magical Race or Demons) are a collection of supernatural races descended from an evil supreme deity known as an Archfiend. The races are comprised of evil deities, demons, the undead and living monsters. They are the major antagonists in the 2004 reboot of the modern Ninja Gaiden games, and its sequels.
History of Ninja Gaiden
[
]
Before the races of Fiends, there was Vigoor, the first Archfiend, from whom all Evil Deities and Fiends arose.[1] He was eventually defeated and banished to another dimension, by the thirtheen Divine Dragons. Not completely destroyed, Vigoor would manage to hold onto existence through the jealousy and hatred of one of the Dragons.
Time passed, until in the ancient era of human history, the Evil Deities and their fiendish minions re-emerged, due to the betrayal of the 13th Dragon, who was corrupted by Vigoor and became the Dark Dragon. Unopposed, they conquered the world and the ancient human tribes. The archaic humans were impressed by their awe striking powers, idolizing and worshipping these evil deities as gods, writing them into ancient mythologies. It was in this time when the bloodlines of the ancient human tribes were mixed with the fiends, creating a new race of fiends.[2]
Due to their wicked nature, the evil deities eventually fought amongst themselves and with their armies vied for control of the world,[3] while the human inhabitants were caught up in the chaos and suffered greatly.[4] It was during this time that a new lineage of human warriors took up arms against the Fiends, they would later be known as the Dragon Lineage, who descended from the Divine Dragons themselves. With Dragon blood coursing through their veins,[5] they fought the Fiends for tens of thousands of generations until the struggle ended when members of the Dragon Lineage were able to seal away the Evil Deities and the demonic Fiends.[6] Ever since the Fiends have had a strong hatred towards the Dragon Lineage and their Dragon Ninja descendants.
The descendants of the ancient human tribes with strong blood ties to the Fiends lingered throughout the ages, mostly within the borders of the Vigoorian Empire, waiting for the day when the Fiends would rise again.
Archfiends
[
]
The Archfiends are evil supreme deities, each ruling a pantheon of deities and Fiends. They are in a constant power struggle with each other vying for complete control of the Fiend race and all the domains, mainly the underworld and earth.[7] The omnipotent and omniscient powers of the Archfiends are far reaching, affecting the world on a universal scale, resulting in the warping of reality, time and space. During these disastrous times vortexes fill the skies as earthly and hellish realms intertwine.[8]
Vazdah: The successor of Vigoor, Vazdah came into being after the defeat of Vigoor by the Divine Dragons. Vazdah rose from the physical corpse of Vigoor, and ruled during the age of myths and legends, where he was simply known as the Archfiend.[10] He was sealed away through the use of the Demon Statue by ancestors of the Dragon Ninjas.[11]
Archfiend Disciples
[
]
The Dark Dragon: The 13th divine Dragon who with his brethren banished Vigoor and the Evil Deities to the ends of the world. He was the youngest and weakest of the Divine Dragons, resulting in an inferiority complex that caused him to be envious towards his brethren. Over the course of the centuries, this envy turned into hatred, which Vigoor used to hold onto existence. Corrupted by Vigoor, the young dragon became a powerful being known as the Dark Dragon. He slayed his brethren and plunged the world into a total abyss of destruction, until his eventual defeat by members of the Dragon Lineage.[14] From his bones the Fiends forged the Dark Dragon Blade, a powerful sword that grows stronger with each killing that occurs within its vicinity.
Murai: A master ninja and leader of the Shadow Ninja Clan. He became a disciple of the Dark Dragon in pursuit of power, which lead him to manipulate even the Vigoorian Emperor. During the Dark Dragon Blade Incident, Murai obtained the fully powered Dark Dragon Blade upon the completion of his scheme. With the blade Murai infused himself with all the powers of the Dark Dragon, becoming the "Devil Incarnate".[15]
Dagra Dai: A philosopher who roamed the ancient earth lost in his thoughts and detached from the chaos and destruction around him. Gazing into the eyes of Vazdah after stumbling into a deep dark pit, he was infused with immense power. He awoke as the Infernal Priest Dagra Dai, and carried out his master's will with almost as much ferocity and wickedness as Vazdah. With his new powers he forced the four Greater Fiends to do his bidding, ruling over them.[16]
Gogohn: Known as the Supreme Fiend, he established the City of Tairon, which gave birth to the Vigoorian Empire, where he ruled for a period of time.[17] He later roamed the earth and erected a shrine dedicated to awakening the Archfiend in South America, deep in the mountains of the Amazon jungle. He would later die there after it's construction.[18]
Greater Fiend
[
]
The Greater Fiends are minor evil deities in a pantheon, that serve under an Archfiend. Like their masters, they are eternal and immortal, however, their powers do not extend far enough to be felt on a universal scale, but can still have devastating effects on the region they happen to occupy. Each Greater Fiend usually rules a territory with a horde of fiends at their disposal.
Humans with strong blood ties to the fiends retain their souls when turned, elevating them to the level of a Greater Fiend. Among their fellow humans they are revered as gods and goddesses.[19]
Ancient Greater Fiends
[
]
Ishtaros: One of the captivating goddesses who resides in the underworld. In Ancient times she was worshipped as a goddess by the ancient Babylonians, where she was responsible for mixing the bloodlines of the ancient human tribes with the fiends, creating a new race of fiends. She is the Ancient Greater Fiend of Creation.[20]
Vigoorian Greater Fiends
[
]
Doku: The ghostly dark samurai, Doku has been put in charge of the Greater Fiends by the Vigoorian Emperor for his devotion and loyalty to his master. He is the Lord of the Greater Fiends.[22] He was tasked into stealing the Dark Dragon Blade, that was under protection of the Hayabusa Ninja Clan.
Marbus: A devilish Greater Fiend who rules over hell and all the demonic races of fiends, rarely leaving his domain. He usually sits on his throne mocking his victims as he conjures demonic minions do his bidding. Marbus is the Archfiend of the Underworld and the one who protects the emperor.
Vazdah Greater Fiends
[
]
Alexei: Known as the Graceful Ruler of Lightning, he is a very pompous and flamboyant Greater Fiend. He has lived for several millenniums and views humans as short lived flies. At the same time he views his destructive lightning storms as a work of art.
Elizébet: A headstrong Greater Fiend with little patience for incompetency and failure. Elizébet is the Shrine Maiden of Blood required in the Necromantale ritual to awaken the Archfiend Vazdah.[27] She is known as the Queen of Blood, the Queen of the four Greater Fiends, but most of all she is the Ruler of Blood.
Black Spider Ninja Clan Greater Fiends
[
]
Obaba: An old wise witch of the Black Spider Ninja Clan, skilled in the arts of witchcraft and Japanese black magic, aided by a magic crystal. She was transformed into a Greater Fiend by Ishtaros.
Genshin: The leader of the Black Spider Ninja Clan, a powerful shinobi who joined forces with the fiends to empower his clan and destroy the Dragon Lineage. After his death at the hands of Ryu Hayabusa, Genshin was transformed into a Greater Fiend by Elizébet.
Fiends
[
]
The Fiends are supernatural beings and creatures who originally descended and spawned from the original Archfiend Vigoor. They have been recorded by ancient humans in myths, legends and folklore by cultures all over the world. Although fiends are classified by how they came into being, they can all trace their origin back to the deities who spawned them.
Fiends are divided in two categories: pure and half-blood. Pure fiends are the original fiends that descend from the Archfiends and originate from their own dimension. Half-blood fiends were once humans who transformed into a fiend because of their cursed blood; most of them are vigoorian in origin. There are also artificial fiends created by technology, by infusing the DNA of fiends into humans or animals through genetic manipulation and alchemical magic.
Demons
[
]
Demons constitute the main bulk of the fiendish horde. They originate from the demonic realms, summoned into existence by the evil deities. They all have green blood and vaporize when killed.
Demonic Monsters
[
]
Hydracubus: A giant grotesque tentacle demon covered with many eyes.
Electric Worm: Huge demonic worms with the ability to control their bio electricity.
Fire Worm: Huge demonic worms with the ability to spew fire.
Paz Zuu: The wind demon of myth, Paz Zuu possesses enough power to rival that of a minor deity. He resides within the fiendish realm waiting to be summoned to the Underground Sanitary should anyone attempt to open the gates to Zarkhan.
Doppelganger Fiend: Deadly fiends with the ability to take on the form and abilities of their enemies.
Vigoorian Golem: A gigantic red and black spiked armored creature, he dwells deep within the Underground Mausoleum.
Giant Death Worm Queen: A gigantic worm with a skull like face, she dwells in tunnel systems underneath the Amazon jungle. She is the largest of the death worms.
Demonic Minions
[
]
Shadow Fiend: Fast and agile mantis like fiends with the ability to meld into the shadows. With the exception of the large Arioch they are all roughly around 5.5 ft tall.
Bast Fiend: A humanoid female cat demon; they ferociously attack with blinding agility and speed.

Grey Bast Fiend: Bast fiends with grey and white fur.
Red Bast Fiend: Bast fiends with red fur, they are slightly more stronger than the grey bast fiends.
Gilldabl: Short psychic mermen with the ability hover above water and blast water based psychic projectiles.
Ogre Fiend: A giant dinosaur like fiend wielding a large club and wearing a triceratops skull as a helmet. They start out with a green skin colouration with blue stripes. Once the triceratops skull is destroyed their skin becomes red and they enter into a berserker rage.
Vigoorian Berserker: A heavily armormed skeletal knight standing at roughly 7 ft tall and wielding a large Dabilahro sword. Vigoorian Berserkers can enter into berserker state where they are more deadly.
Van Gelf: Giant gargoyle fiends standing at roughly 13 ft tall.

Immature Van Gelf: These are the weakest of the Van Gelfs, they have smooth purple pink skin and small wings incapable of flight.
Winged Van Gelf: Once the Van Gelf have matured they grow large wings capable of flight. They've also grown a green and purple carapace in place of smooth skin.
Winged Golden Van Gelf: The strongest of the Van Gelf, they have a hard gold and green carapace.
Death Worm: A large worm with a skull face from the caverns of the Amazon jungle, they are usually found in a pool of acid.
Centaur: Spear wielding demons with a satyr upper body and horse like lower body.
Demonic Creatures
[
]
Cyclop Wasp: A one eye flying wasp like creature with a stinger.
Pill Bug: 4 ft long beetle like bugs, Pill bugs will lunge at their prey and eat away once on top, this is usually done in swarms.

Green Pill Bug: Normal pill bugs with a green exoskeleton.
White Pill Bug: Stronger pill bugs with a white exoskeleton.
Flying Eyeball: Demonic eyeballs with the ability to levitate and shoot fireballs.
Mutants
[
]
Unlike the demons, mutants originate from the earth and unlike the undead, these fiends are still living. Fiendish mutants were once human and animals,[28] with their soul corrupted away by the evil deities they have been transformed into supernatural monstrosities.[29] Since they are of earthly origin and living they all have red blood, and most species leave a corpse behind when killed.
Mutant Monsters
[
]
GigaDeath: A large phantom fishlike mechanical being mutated deep in the New York subway tunnels. Gigadeath moves around by creating electromagnetic fields. He is also able to produce mini kamikaze versions of himself.
Nuclear Armadillo: A giant radioactive flaming armadillo. The energy it produces can be harnessed, such as the use of its energy to power the main sections of the Flying Fortress.
Mutant Minions
[
]
Gahrula Fiend

: A dinosaur like fiend standing at twice the height of a human. Mutanted into fiends they were once human.

Galla: A red and black two horned gahrula with the ability to breath fire, they are the weakest of the gahrula fiends.
Ice Gobdeck: These fiends are similar to the gallas but slightly larger with spikes and harden plated light blue skin. Instead of a firebreathing ability they have ice breath.
Fire Gobdeck: Similar to the ice gobdecks but they are light orange in color and breath fire in place of an ice breath.
Monk Fiend: These fiends were highly disciplined monks of the Holy Vigoorian Order, once mutated they ascended to a level similar to the demon fiends originating from hell.
SAT Fiend (aka Military Fiend) : These are quick and deadly fiends with the ability to project fireballs. They were once Special Assault Team commandos of the Vigoorian shadow ops.
Black Spider Shadow Ninja : 10 ft tall humanoid spider fiends, they are the elite black spider ninja of the ninpo branch within the Black Spider clan. Highly disciplined in the black ninja arts they are able to transform into deadly spider fiends.
Werewolf: Large and muscular humanoid wolves, they are members of the Lycanthrope tribe under Volf. Werewolves have inhuman brute strength and are predatory in nature.

Brown Werewolf: These are the weaker of the two werewolf types. They have brown fur.
Red Werewolf: Werewolves with red fur, they are stronger than the brown werewolves.
Gaja: Gajas were once beautiful mermaid like creatures, but indulged in pleasures until they lost their flesh, becoming hideous skeletal fiends.[30]

Skeletal Gaja: Gaja fiends with bleached white silver bones.
Blood Gaja: These these fiends have a fleshy blood skeleton, they are more stronger than the skeletal gajas.
Mutant Creatures
[
]
Shargelth: Crocodile/Shark like fiends dwelling in the water ways of Tairon.
Giant Bat: Bats that have been mutated into giant bat fiends.
Blood Eel: Crocodile size tadpole like creatures.
The Undead
[
]
These fiends were once living animals and humans. After their death they were reanimated as minions to serve their overlords.
Undead Monsters
[
]
Bone Dragon: A giant dinosaur skeleton deep underneath Tairon. It is reanimated by the Holy Grail.
Crimson: Lord of the Vampires, Crimson is a powerful vampire who leads an army of vampires in a millennia old conflict against the Dragon Lineage.
Giant Skeleton Wolf: A giant skeletal werewolf composed with the bones of victims killed and eaten by the Lycanthrope werewolf tribe.
Undead Minions
[
]
Ghul: Human warriors reanimated as zombies deep in the catacombs under Tairon. These zombies were once Vigoorian warriors from the Middle Ages.[31]

Archer Ghul: Ghuls wielding a large Vigoorian composite bow known as strongbow.
Mace Ghul: Ghuls wielding a large and heavy mace.
Axe Ghul: Ghuls wielding a large and heavy battle axe.
Soldier Ghul: These were modern Vigoorian infantry soldiers reanimated as fiendish purple zombies after being slain in battle by Ryu Hayabusa.
Vampire: They are fiends who feed upon humans by biting into their victims and drinking their blood.
Spriggan: A tall humanoid purple zombie. Instead of hands they have a chainsaw in place of one hand and a cannon in place of the other.
Marionette Cyborgs: These are two headed women doll creatures stitched together with robotic parts.
Mecha Soldiers: Machine enhanced fiends, armed with machine gun, jet packs, and two blades on its back.
Executors: Cyborg Fiend torsos installed within robotic walkers.

Sentries

: A variations of Executors that are placed in hovering machines and armed with rocket launchers.
Demon Ninja: Wicked black spider ninja who have fallen in battle may find themselves reborn in hell as demonic ninja. They usually require some time to incubate inside large spider egg sacs. Unlike their living comrades, these ninja are able to survive using an exploding kamikaze attack.

Demonic Bow Ninja: Black Spider bow ninja who have died and been reborn as demonic ninja.
Demonic Claw Ninja: Black Spider claw ninja who have died and been reborn as demonic ninja.
Demonic Incendiary Ninja: Black Spider incendiary ninja who have died and been reborn as a demonic ninja.
Demonic Ninpo Ninja: Black Spider ninpo ninja who have died been reborn as demonic ninja.
Undead Creatures
[
]
Ghost Fish: Skeletal phantom fishes of varying sizes, they float around in mid air. Ghost fishes are very deadly when they swarm like piranhas.
Phantom: These are spirits in the form of floating blue fireballs. Seem to have similar A.I. as the Cyclops Wasps.
Skeletal Scorpions: Random bones put together and reanimated to form scorpion-like skeleton creatures. They are roughly 3–4 ft long.
Beasts
[
]
Beasts are legendary creatures created on earth to serve their masters. Like the mutant fiends originating from earth they bleed red blood and generally leave a corpse when killed.
Bestial Monsters
[
]
Yotunfrau: A large hairy beast with two arms, it has the ability to breath freezing ice blasts.
Cyclops Yotunfrau: Similar to Yotunfrau, but hairless. It has one eye and a blue and red skin tone.
Godomus: Gigantic troll like fiends.
Dragons
[
]
Smaugan: A gigantic golden lava dragon, he is a western dragon with a long neck, four limbs and a pair of wings.
Ice Dragon: The ice counterpart of Smaugan, he is light blue instead of gold.
Red Dragon: A large western red dragon with a pair of legs and a pair of wings in place of arms.
Quetzalcoatl: A large yellow wyrm like dragon with no limbs and a pair of wings.
Water Dragon: A gigantic blue white water dragon resembling an elasmosaur. It has the ability to meld in with its surroundings becoming invisible.
Black Dragon: A large western black dragon with flame attacks.
Possessed Objects
[
]
These are objects that have become possessed by the evil deities.
Buddha Statue: A gigantic Buddha statue from Tokyo while possessed by Elizébet.
Chimera/Artificial Fiends
[
]
These are fiends that are the result of scientific and alchemical experiments by the Lords of Alchemy. They spill pixelated blood and have blood red auras before certain attacks. The names below are actual name listed in the Strategy Guide.
Homunculus/Moon Child: Test subjects mutated into brain-chewing fiends. Moon Children has a darker color. Killing them will making them transform into a Megaselion (Demon Baphomet if it's Moon Child) or an Ourboros.
Ourboros: Fiends transformed from the Homunculus/Moon Child. Their head and torso are the same as their previous forms but replace arms with snakes and a snake lower body.
Celsus Fiend: Human size fiends with spikes on back and a Bird Mask as their skulls. When weakened by a Steel to Bone technique, they sometimes will activate orange lightning on their back and kamikaze themselves. Paracelsus Fiends looks identical to normal Celsus Fiends except that they have more spikes, produce purple lightning and inflict more damage.
Megaselion/Demon Baphomet: Fiends that look like skinless gorillas. Demon Baphomets have armors on their body and wears a mask similar to the skull of the Celsus Fiends. They can go into a berserk form when weakened. Megaselion are actually transformed from the Homunculus. There can only be hit in the air by the Eclipse Scythe. They are surprisingly very easy to kill in Razor's Edge, as attacking them they will attempt to grab you, giving you the opportunity to perform Steel on Bone.
Magna Persona Fiend/Magna Fiend: Powerful fiends that start off as a floating face that shoots laser beams called the Magna Persona Fiend. When the face is damaged, exposing the Magna Fiend control it. The Magna Fiend reveals to be a fiend with humanoid upper body and four bug-like legs who carries a scythe. It's one of the hardest normal enemies in the game, as it counters Ryu's attack most of the time.
Goddess Prototype: Humans infused with the Egg of the God.
Epigonos: A fiendish clone of Ryu devised by LOA, it can perform all of his movements and can duplicate his weapons and Ninpo.
Gallery
[
]
References
[
]