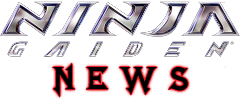 Welcome to Ninja Gaiden Wiki News, shamelessly stolen layouts from the Final Fantasy wiki! Here, special news pertaining to the Wiki and the Ninja Gaiden series that grab our attention will be reported for all to read. Anyone can start a news report, but be sure to leave the date, location, source and sign your report with three tildes (~~~) before submitting.
News reports should be structured in a chronological manner, with recent issues posted at the top. Reactions or comments have no place here, please take them to a relevant talk page. Remember, only news related to the Wiki and to the Ninja Gaiden series are allowed. If you find that our reports are either incorrect or incomplete, feel free to edit them as you feel fit. Just be sure to include a note that you've edited it with (''EDIT:'') along with the date of the edit and those same ~~~ below the original reporter's name.
After reporting news, please mention it to a SysOp or active administrator!
Archives
All hail our Pachinko overlords!
Edit
Happy New Year! In the first news of the year, we got sobering news... Ninja Gaiden is getting a Pachislot machine this February! I know, not the most exiting news, but hey, at least the brand's alive? Additionally we now have articles for some of the other gambling machines themed after Ninja Gaiden, including a... questionable one focused on the women of Ninja Gaiden Sigma 2. Thanks to user Sake neko for bringing up this information.
Pachislot Ninja Gaiden will be released sometime this February.
Source: tokyopachiTV, via Sake neko.